Helderberg Caravan Hire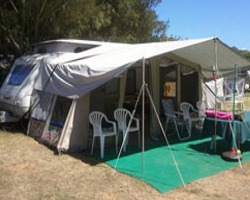 We offer a carefree caravan camping holiday / weekend / long weekend experience. We understand the Caravan camping industry very well and know what people expect.
All our caravans come fully equipped with tents and groundsheets. We offer a choice of a large or small camping caravans, both suitable for up to 4 people. Every caravan is thoroughly checked before it is handed over to ensure everything is in order.
Each caravan is equipped with the following:
2 Plate stove, microwave oven, cordless kettle & toaster
4 Plates, side plates, small plates, saucers, cups & glasses
1 Wooden spoon, salt & pepper set, milk and sugar set, , measuring cup, an ice & water bottle & ice-rack
4 Forks, steak knives, teaspoons, tablespoons, soup spoon, spaghetti scoop combo, egg whisk & potato masher
1 Tin opener, corkscrew & bottle opener
1 Vegetable knife, wooden salad bowl, salad bowl Glass
2 Pots, 1 pan, meat dish, meat brush, cutting board & bread knife
1 Coffee, tea and sugar container
1 Plastic bowl, broom, dustpan & floor mat
1 salad spoon & grater
1 Gas Bottle, groundsheet, 4 chairs and 1 table
Our standards are very high and all our caravans adhere to the highest standards of quality and comfort. We focus on comfort, convenience and quality and do not want our clients to be ashamed of the camping caravan they hire. This is how we want our company to be. Quality, Convenience and value for money.
Contact Helderberg Caravan Hire
Telephone: +27 (021) 853 6393
Email: This email address is being protected from spambots. You need JavaScript enabled to view it.
Website: www.helderbergcaravanhire.co.za
Book a caravan at Helderberg Caravan Hire
Please click on the links below to open each form in a new window.