Helderberg Camper Hire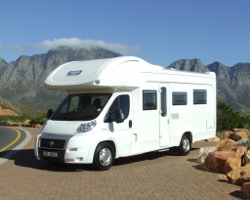 Helderberg Camper Hire is a family owned and run business and as such can offer the personal service you would expect. Big enough to ensure that you have full backup, 24 hrs; but small enough to ensure that you are not just another number.
Neil and Eryll Lawrence and their staff are experienced motorhomers in their own right and can offer you the support and security you need when undertaking your venture.
For your added peace-of-mind, Helderberg Camper Hire has contracted the Automobile Association of South Africa (AA) to provide emergency breakdown service in the unlikely event of developing a mechanical problem anywhere in South Africa. Our vehicles are serviced by the agents and maintained in tip top condition.
Contact Helderberg Camper Hire
Your hosts Neil and Eryll Lawrence
bookingsTelephone: +27 (021) 851 2675
Email: This email address is being protected from spambots. You need JavaScript enabled to view it.
Website: www.helderbergcamperhire.co.za