A Journey in a Mirror Dinghy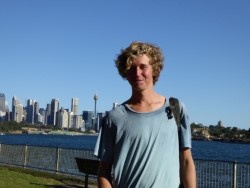 It began with an email from a friend of a friend. "Look at this blog www.digbyaytonphoto.tumblr.com" (if you look it up start at the bottom of page 5) – someone is rowing/sailing a Mirror through Canal du Nivernais.
Now I have been a fan for more than a decade of A.J. Mackinnon's book "The unlikely voyage of Jack de Crow" the story of a journey in a Mirror Dinghy that began in the Welsh borderlands and finished a year later in the Black Sea. Digby, who hails from Hobart in Australia, had read the same book and resolved to spend part of his gap year sailing or rowing a Mirror dinghy through what the internet describes as "the undoubted jewel of the French waterway network". His blog is illuminated by his photographs, not just of the canal trip but also stunning photos of surf and surfers – his everyday specialty.
Digby seems to have experienced the same serendipitous kindness from strangers as did Sandy Mackinnon. Is it the magic of Mirrors or do Mirrors just attract that sort of person? I fell under his youthful spell when he stopped briefly in Sydney and I was able to take him sailing at our local Greenwich Club. We talked so much we missed the start of the first race but he proved that he can do more than row.
In addition to the blog there are 2 short videos of the trip. Go to the vimeo website, vimeo.com and look at /105144858 and /108723691. You don't have to join or subscribe to watch.
Despite the way we carry on there is more to Mirrors than just racing, so if you have a reluctant competitor around, encourage them with this way of looking at the boat we love so much.