Congratulations from the Mirror Class world wide!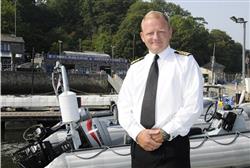 HMS Raleigh has a new man at the helm. The Royal Navy training school will now be headed up by Captain Robert Bellfield, who is relieving Captain Bob Fancy as the Commanding Officer of the Torpoint base. Capt Bellfield joined the Royal Navy in 1983 and has spent the majority of his 31-year career at sea. He is a surface Warfare Officer specialising in anti-submarine operations.
Capt Bellfield has spent the last nine months in Bahrain as the Deputy Commander for all Royal Navy maritime operations in the Gulf and the Middle East.
He was welcomed to HMS Raleigh by a guard of honour made up of trainee sailors.
"It is an absolute privilege and honour to Command HMS Raleigh," he said.
"The training conducted at HMS Raleigh is the very bedrock of the Royal Navy and sets the foundations for the first class professionalism for which the Royal Navy is so rightly renowned.
"I have recently witnessed Royal Navy sailors operate at the very highest operational level in the Gulf alongside our international partners and I am thoroughly looking forward to delivering the training, across HMS Raleigh's broad spectrum of activity, for young sailors joining the best navy in the world."
Capt Bellfield's most recent sea-going appointment was as the Executive Officer of HMS Ark Royal.
Originally from Woodbridge in Suffolk, Capt Bellfield and his wife, Zoë, have two daughters, Eleanor, aged 17, and Imogen, aged 14.
Mrs Bellfield is a former pupil of Pensilva Primary School and Callington Community College.
Capt Fancy left HMS Raleigh after two years in charge, moving across the River Tamar to take up post as Captain (Submarines).
"As with all commands this has been a huge privilege," he said.
HMS Raleigh currently trains all Naval Ratings and Officers, and all Royal Marine recruits at some stage during their initial training.
Read more: http://www.plymouthherald.co.uk/HMS-Raleigh-new-Commanding-Officer-helm/story-22893010-detail/story.html#ixzz3CzuV8ErE