Tractor Museum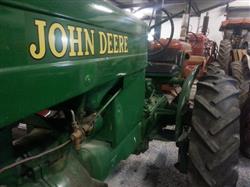 Located on the property of Kelkiewyn Farm Stall, the Villiersdorp Tractor Museum is hardly much more than a large shed filled wall to wall with hard-working vintage farming vehicles of all shapes, colours and ages.
Despite the plainness of the setting, there's something about the museum that speaks right to that little well of nostalgia we all carry somewhere in our chests. It's truly fascinating strolling around between the polished and primped tractors, imagining their former lives and proud owners.
There's also great excitement about the soon-to-be new addition to the museum - a steam tug boat named the Alwyn Vintcent. Currently undergoing renovations in a make-shift dry dock it shares with fruit packaging crates, the 47-metre boat has quite an interesting travel story to tell. It arrived in Villiersdorp in June last year, after a 400km journey from the Cape Town Harbour on the back of a heavy duty truck. Some of the incredible journey was caught on film - check out this video
When the renovations are completed, it will join its land-based counterparts at the museum... and may one day even take to the water again - this time on Theewaterskloof dam.
Contact The Tractor Museum
Telephone: +27 (028) 840 2901