Elliott Gallery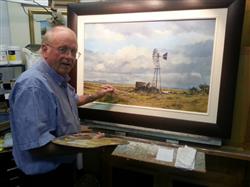 It's funny how the term 'artist,' in my mind, tends to evoke images of somewhat disheveled eccentrics, working jovially in a disarray of forgotten tea cups, flowers wilting in vases and cigarettes left smoldering in ashtrays.
So, walking into the pristinely clean and light Elliot Gallery in Villiersdorp caught me somewhat off guard, and so did the short-haired, checkered-shirt-and-chino-wearing artist sitting in front of a large canvas.
According to Dale Elliot his choice to leave his career as an auctioneering attorney behind in favour of becoming an artist was not nearly as dramatic as people would like to believe. "After working as an attorney for almost 10 years in Queenstown, I decided it was time to develop my artistic talent and pursue a professional painting career," he explained.
Along with his wife Janny, and their kids, they made a tactical move to Knysna, which at the time, was just becoming a cross-roads for tourists and a prime position for a professional artist to ply his trade.
Dale's matter-of-fact pragmatism regarding things widely accepted to be elevated beyond reason is charming and even amusing. Strangely, it also adds to his credibility as an art teacher in the popular workshops he runs with his son and business partner, Mel.
Over the past 15 years, Dale has conducted well over 300 courses, nurturing passion, work ethic and talent in more than 4 000 developing artists. "Our idea with these workshops is to give artists - from beginners to professionals - a structure to work within. Like everything in life, one needs guidelines to produce a good painting," he explained.
As for the contents of the gallery? The nature-inspired works of both Dale and Mel provide a breathtaking overview of South Africa and are available for purchase, ranging in price from R1 000 to R16 000. They also take commissions, which vary in price.
Contact The Elliott Gallery
Telephone: +27 (028) 840 2927
Email: This email address is being protected from spambots. You need JavaScript enabled to view it.
Website: www.daleelliott.co.za