Helderstroom Alpacas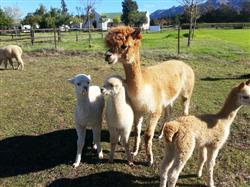 If you're a bit of a cuteness fiend, like me, a visit to Helderstroom Alpacas is an absolute must! Located just outside Villiersdorp in the direction of Worcester, the farm - with its large green paddocks, a spritely little stream running through it, and exceptional views - is home to 25 of these ridiculously adorable and fluffy South American Camelids.
Accompanied by owners, Christopher and Alison Notley, visitors can get up close and personal with the female alpacas and their babies, known as crias. Most of them are super curious and have no qualms approaching guests to have a good look and sniff. While they are known to spit when angered, it takes a lot to work them up to this level, and petting is welcome. The adult males are kept in a separate camp, and are more prone to attack, when they feel threatened.
The Notleys started breeding with alpacas in 2004, after Alison read an article about it in a magazine. After a good batch of research and preparation, they imported five pregnant (in cria) females from Chile, and so became the second set of breeders in South Africa. Since then the herd has grown exponentially, and so has the alpaca breeding community in South Africa, which now stands at about 45 breeders across the country.
Apart from getting to meet the cuddly creatures in person - Christopher and Alison know each by name and will introduce you - you can visit the on-site shop to appreciate the incredible handiwork involved in producing alpaca wool garments. Along with two award-winning spinners and a team of knitters, Christopher and Alison do everything with their own two hands - from assisting in birthing to shoring to spinning the soft, woolly fiber into balls of usable wool.
Contact Helderstroom Alpacas
Telephone: +27 (028) 840 0158
Email: This email address is being protected from spambots. You need JavaScript enabled to view it.
Website: www.helderstroomalpacas.co.za