Half Day Robben Island Tour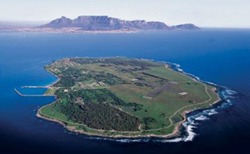 An interesting tour across Table Bay to the notorious former prison at Robben Island, where you will have the chance to meet one of the ex-prisoners.
Half Day Robben Island Tour - R765 per person
For nearly 400 years, Robben Island, 12 kilometres from Cape Town, was a place of banishment, exile, isolation and imprisonment. It was here that rulers sent those they regarded as political troublemakers, social outcasts and the unwanted of society. During the apartheid years Robben Island became internationally known for its institutional brutality. Those imprisoned on the Island succeeded on a psychological and political level in turning a prison 'hell-hole' into a symbol of freedom and personal liberation. Robben Island came to symbolize, not only for South Africa and the African continent, but also for the entire world, the triumph of the human spirit over enormous hardship and adversity. Here you will have the possibility to interact with an ex-political prisoner.
Duration
4.5 Hours
Includes
Transfer by minibus, return boat trip to Robben Island, visit to the Maximum Security Prison.
Drop Off
Returns to original departure point